Meet our COO - Christophe Schmidt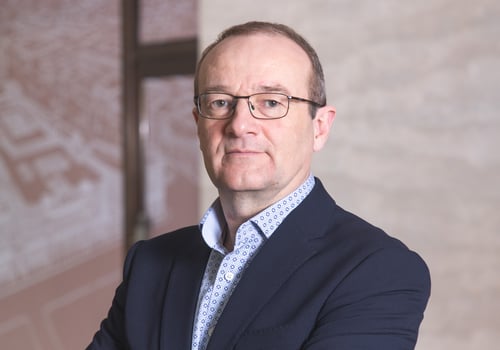 Have you been wondering who's behind the smooth running of Paynovate's day-to-day activities? Then we are happy to introduce you to our Chief Operating Officer - Christophe Schmidt. With his steady hand at the helm, we know Paynovate's services will continue to improve and delight our clients. So without further delay, allow us to introduct you to the man himself!
1. Hi Christophe! Tell me a little about yourself and your professional background.
I wasn't sure about what type of work I wanted to do, so I chose a pretty general study domain: commercial economics in ICHEC. I thought that it would allow me to have more choice in terms of career. After I graduated, I spent one year serving in the army, which was obligatory for all French men at the time. My military service, in a way, bought me more time to think about what I wanted to do.
After my service concluded, I applied for two jobs, and selected the one that spoke to me the most. I started my professional experience at a company building software in the card industry. So that was in a way when I first started working with payment solutions. I worked on a software that is related to managing disputes, it was a complex process. I was the second employee without technical background in the company, my manager was the first, and she was hired only 6 months earlier than me. It was a family business, a startup. We started all of the operations and commercial activities at the company that had only two customers at that moment. We started to build out the whole system: implementation and delivery, as well as account, customer, and product management.
Prior to our arrival the developers were only working on solutions that were interesting to them, and these didn't take market demands into consideration. We educated them about the importance of market research and I was playing the role of a consultant. I was doing everything except for developing: sales, pre-sales, consultancy, implementation, project management, product management, end user training. I was traveling a lot, one week out of every two, because all of our customers were outside of Belgium. I was fortunate to be at that company for many years: when I started, it was a small Belgian company that was later acquired by another Belgian company with 400 employees. I had to integrate into a larger company. The company that acquired us was in the banking business, that's where I learnt a lot of what I use today.
Then, the company grew to 1500 employees, we went through a lot of changes again, and my team rapidly expanded. Years down the line, we acquired another company in India for outsourcing, and another 30 people joined my team. By the end of my time there, the company eventually grew to 60,000 employees, but the Belgian division wasn't developing anymore. That was one of the reasons I decided to look for a new job. My role as a consultant could be described as "Jack of all trades, master of none". I made sure that the team was functioning well and was in good hands. I took a few months off and spent a summer with my family. Later, when I started looking for a new challenge, COVID happened and delayed the process a little but eventually I got what I wanted. After doing several mid/short-term projects, I joined Paynovate.
I've worked for a very small company and a big enterprise, I've been taking care of numerous roles at the same time and occupied a manager's position, I've worked for Operations, Projects, Commercial teams. I now use all of my skills to help grow Paynovate.
2. Okay, now the big question: Skiing or Surfing?
Skiing. Definitely. I've lived in Switzerland, so the mountains were practically my back garden. I love speed, high jumps, I'm good at it. And I'm more of a mountain guy than a sea-side guy.
3. Alright, we'll stay on topic now – we promise! What inspired you to join the team here at Paynovate?
The size of the company is something attractive to me. And, consequently to the size, the type of role I have. It's wider than it would be in a larger company, I don't do pure management and reporting, I have a lot of different tasks. It's way more fun and requires more energy than working in a big established business. And the activities are close to what I know from my previous position but not the same, that's also something that interested me.
4. If you could join a different Paynovate department for a day, which would it be and why?
I studied finance, so I know that's not a job for me. Maybe HR. It's a department I've worked with a lot in the past. Like I said, I used to oversee a team of 65, and all the reviews and HR topics that go with a large team. I like what they do, love seeing new young employees and the evolution of their careers, it was always something that was interesting for me.
5. What do you think makes Paynovate stand out in the FinTech sector?
I will repeat my previous point: size that allows speed for action. Our performance and decision making are faster than in most companies. Also, our span of actions. We provide a wide spectrum of solutions, we work with a lot of different activities and don't have one narrow area of expertise.
6. What milestones are you hoping to see Paynovate achieve in the next 5 weeks? 5 months? 5 years?
In 5 weeks we'll be very busy, in 5 months even busier, and in 5 years we'll be the busiest.
We're now wrapping up a key project in acquiring a new scheme, UnionPay. In 5 months we have some other key projects. For example, adding new features to our onboarding system. We are also working on direct acquiring for another major scheme, a project that should be finalized within the next 5 months. There is also a new strategic milestone coming up, the e-commerce acquiring. We are going through some interesting times. The ship could go in any direction!
7. How would you like to see our brand evolve?
I'm so busy with day-to-day tasks that I didn't have the time to think about it, but I'm excited to see where we'll get to. As I said, I can move in any direction. But as to my personal opinion, I put a lot of importance on such factors as credibility, customer service, quality of the services provided, and market recognition. I want to see how we will evolve within these areas. To work on the quality of our services and be customer experience-oriented is something that goes hand in hand with growing market share, in my opinion.
8. Last one: which of Paynovate's activities is your favourite?
It's hard to say. I think that acquiring is something I appreciate a lot, but this will most likely change and evolve. It's the activity that is the most developed and mature, we are constantly working on extending it but it already has a solid base. Issuing and IBAN accounts are much newer activities that will grow a lot in the upcoming months, so I think that my answer will change.
Thank you for sharing your story with us, Christophe!
Do you want to start working with Christophe?