Meet our CCO - Benjamin Beeckmans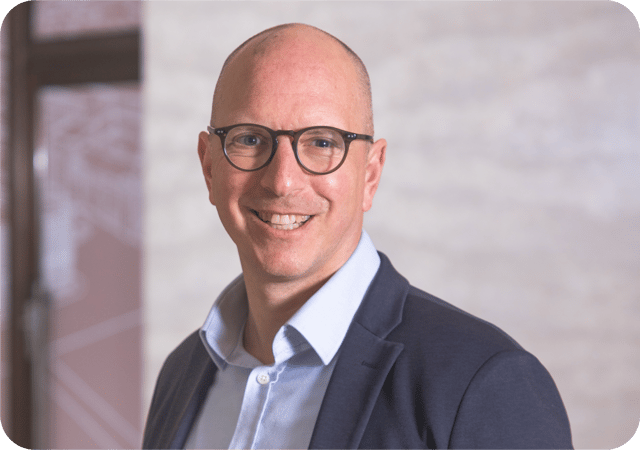 Have you been wondering who is the man behind the commercial side of Paynovate who you saw at every tradeshow we participated in? Then we are happy to introduce you to our Chief Commercial Officer - Benjamin Beeckmans! He shared his story with us, and we're here to let you get to know him! So get comfortable and enjoy reading the insightful interview we had:
1. Hi Benjamin! Tell me a little about yourself and your professional background.
I graduated from the Solvay Business School in 1997. I actually attended Solvay with Robert (Robert Masse, Founder and CEO), and that's where we met. We've been friends ever since. After graduating from Solvay, I started my career by working for 2 big companies: P&G and Coca Cola. That's where I developed a little bit of expertise in finance and marketing. I realized pretty quickly that, with my personality and passion, I was meant to be an entrepreneur. I launched my first company (imported surgical masks from China) and I did that for a few years. From there I shifted gears to become a diamond trader. I decided to get into the industry because I find this product fascinating. I, of course, moved to Antwerp. I worked a lot in Botswana, Israel and the USA during that period. After a few years in the diamond business, I switched again; I set up a software programming bureau in Sri Lanka, where a friend of mine was already doing business, and my company quickly grew to several hundred people. So I spent quite a lot of my time in Sri Lanka, as well. I was also a business partner of Robert during that period. We tried to launch a container housing business, it was certainly an interesting experience we shared. Although it didn't turn out to be a success, we learnt that we could be business partners in good and bad times. That played an important role in my joining Paynovate. I later launched a consulting firm supporting FinTech companies. Together with the team we launched ING FinTech Village, and ran it for a few years. Then I moved back to Solvay Business School, and became a professor of entrepreneurship. But I missed the feeling of building something, and that's why I joined Paynovate to reshape its business development and pre-sale structure.
2. Okay, now the big question: Skiing or Surfing?
Actually, it depends: if it's on a mountain, then definitely skiing. But I'm also a big fan of wave surfing. If it's on snow, give me skiing; if it's on water, give me a board. I now do more and more bodyboarding and less traditional surfing.
3. Alright, we'll stay on topic now – we promise! What inspired you to join the team here at Paynovate?
There were several things. From a personal point of view, I've always enjoyed working with Robert. We have good memories of working together in the past, so we're always looking for something to do together. I was ready to step back from academia and do something different, and the opportunity with Paynovate presented itself. Right place, right time. I also find the fintech industry fascinating: we're only at the beginning of our evolution. The degree of liberty and the growth potential in this area is infinite, so it was a highly motivating prospect for me.
4. If you could join a different Paynovate department for a day, which would it be and why?
I'd probably love to join the Product Department to understand the complexity and the constraint that they're facing. Being on the Sales side seems to be the easy part, whereas the delivery and the quality control are much harder. Having an insider view on that would probably help me perform better in my job. But only for one day!
5. What do you think makes Paynovate stand out in the FinTech sector?
We have an objective advantage, our banking license, which is a unique asset: we're one of only 7 EMIs in Belgium. But the other asset is the incredible diversity of Paynovate's talent pool. In no other environment have I seen such a young, diverse and motivated crowd. It's very unusual and there's a lot of potential that we can leverage. Having so many nationalities, so many people from different age groups working together is unusual. I've never worked in an environment with so many nationalities, even when I worked in international companies, like P&G. We have at least 3 generations working here, slowly getting into 4. For me it's very interesting, even if you think only in the terms of communication: how do you best communicate a message to a person in their 50s versus people who are in their 20s. The way to communicate, the expectations, the attitude and approach to work are completely different. Yet it's working. It's a magic mess and that's what makes us special. I think this will help us succeed in the future. We have energy and expertise, structure and movement at the same time. I think this combination pushes me. I'm learning every day. I thought that at my age I would know how to do things best, but I'm not so sure anymore. And this is what makes it interesting. I'm learning from new ways of doing things, that's exciting.
6. What milestones are you hoping to see Paynovate achieve in the next 5 weeks? 5 months? 5 years?
I think in 5 weeks we have quite a lot of people to integrate, we're actively adding new hires to the team in different departments. Making sure that these newcomers feel at ease and start contributing to Paynovate is our N1 challenge because we're a growing company. In 5 months' time, it's all about structuring what we do, having better procedures and streamlining them, and having proper documentation so we can scale up with a good foundation. At the moment we're a bit understaffed for our level of ambition. Things are working but our small team doesn't have enough bandwidth for full procedural documentation which can create delays. 5 month from now, I want all the procedures to be in place to match the new areas we're exploring in terms of business development. The core of what we do is acquiring, we've developed an expertise in it and now we're adding online acquiring: it's something brand new for the company. So the challenge will be to make both our payment terminals and our online acquiring work together successfully. When that's done, we'll have to combine those activities with totally new, open fields. These are fields where we have a little expertise, but I have every reason to believe that we'll succeed there as well.
7. How would you like to see our brand evolve?
Paynovate doesn't have a clear brand positioning at the moment: this is both an exciting and challenging place to be in a brand's evolution. Our first challenge will be becoming a recognized brand on the B2B market where we can spark longevity, simplicity, and trust. We're big enough to cope, we're small enough to care, and we have that agility so we can tackle difficult, unusual payment solutions. We do deceptively simple things that we can deploy at scale later on. And you can trust us because we have clear guidelines with regards to compliance and we adhere to those guidelines. I want the company to go on following those principles 60 years from now. And the only condition for that is to adhere to very high moral and ethical standards - which we'll always do.
8. Last one: which of Paynovate's activities is your favourite?
I like the after work parties but I'm not sure that's the best answer. The best activity is the one that is still to be built. We have a lot of building blocks and we could combine all of them or only some of them together, yet they will form interesting solutions for our clients. So those activities that we will develop in the future is what excites me.
Thank you for sharing your story with us, Benjamin!
Do you want to start working with Benjamin?